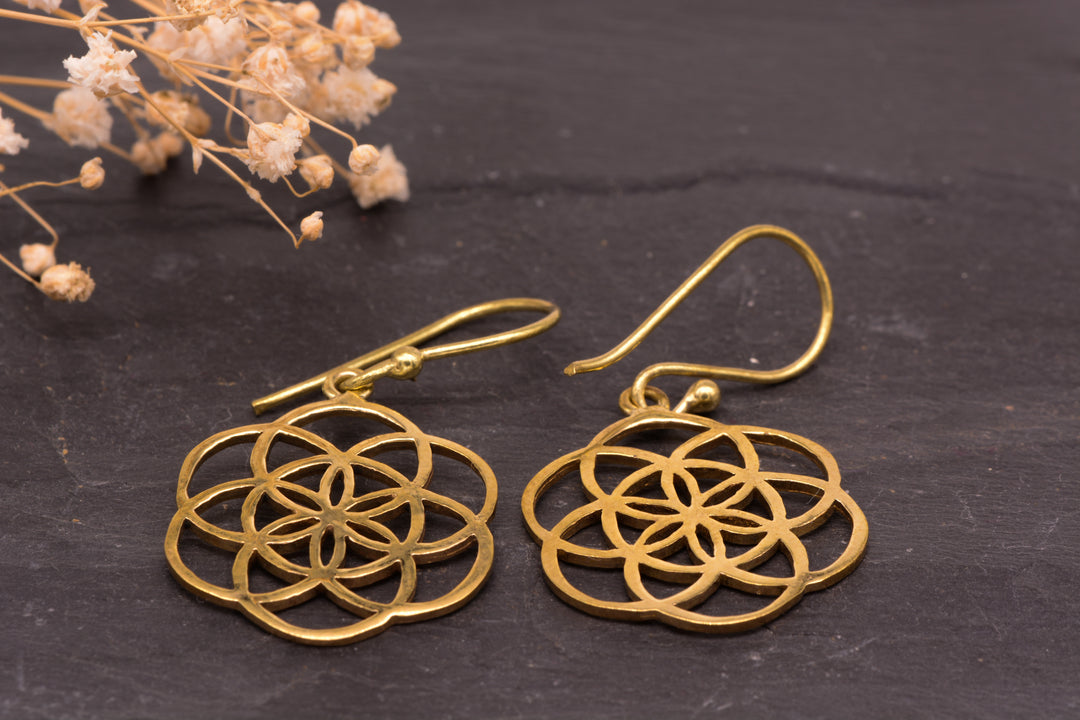 Seeds of life | Ear rings | Brass
---
Free shipping within Germany
The "Seed of Life" earrings are almost a classic. You surely know the symbol, an ancient symbol of power and protection. The seed of life evokes the universal life energy, sacred geometry and the power of nature. Wearing this symbol around your neck strengthens your connection to the universe and your intuitive wisdom.
The Seed of Life is a power symbol for your grounding and connection to nature.
When you wear this symbol on your body, it reminds you of Mother Earth every day.
You can wear the symbol as a talisman. Many people feel positively influenced by it.
Materials: Brass.
Wir liefern weltweit.
Lieferzeiten:
- Inland (Deutschland) innerhalb von 3 - 5 Tagen,
- bei Auslandslieferungen innerhalb von 5 - 7 Tagen nach Vertragsschluss.
Versandkosten
(inklusive gesetzliche Mehrwertsteuer)
- Deutschland Kostenfrei
- EU-Raum 12 EUR
- Ausland außerhalb der EU 24 EUR
Nur Personen, die diesen Artikel erworben haben, sind berechtigt, ihre Meinungen zu teilen. Wir senden einen Zugangslink ausschließlich an jene, die den Artikel tatsächlich erworben haben. Die Gesamtbewertung stellt einen Durchschnitt aller Meinungen dar. Alle Bewertungen unterliegen einer Prüfung bezüglich ihrer Relevanz für das Produkt und ihrer nützlichen Informationen. Nach einer sorgfältigen Überprüfung veröffentlichen wir sowohl positive als auch kritische Bewertungen.